Met een kleine twintig jaar ervaring in systeemarchitectuur verhuisde Gerrit Muller in 1999 van ASML naar Philips Research. Hij vroeg of er interesse was in een cursus op zijn vakgebied. Hij broedde daar al een paar jaar op: hoe hij mensen kon bekwamen in zijn vak systems architecting.
Muller startte in die tijd ook zijn inmiddels vermaarde Gaudi-website waarop hij informatie over systeemarchitectuur vrij toegankelijk maakt. 'Ik zag dat er weinig mensen waren die het vak begrepen, laat staan konden uitoefenen', zegt hij daarover. 'Ik was zo onbescheiden om te denken dat ik het wel wist.'
De kiem werd twee jaar eerder gelegd, toen Muller overstapte van Philips Medical Systems naar ASML. Om de kennis die hij in de medische apparaten had opgebouwd over te dragen, organiseerde hij een week lang interactieve sessies. 'Dat ging niet erg gestructureerd, maar de deelnemers waardeerden het zeer', herinnert hij zich.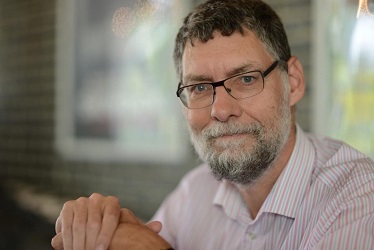 Gerrit Muller – Grondlegger van de SYSARCH training
Deze kennissessies herhaalde hij, toen hij ruim twee jaar later van ASML naar Philips Research overstapte. 'Bij ASML had ik veel bijgeleerd. Ik ontdekte bovendien hoe leuk het is om anderen te helpen om het onder de knie te krijgen. Toen ik in Veldhoven wegging heb ik aangeboden om één week training te geven in systems engineering.'
Muller zag dat bijna alle bedrijven een tekort hadden aan architecten. Hij constateerde ook dat dit leidde tot problemen in de systeemontwikkeling, iets dat vooral in de systeemintegratie de kop op stak en zich daarnaast uitte in problemen in het veld. Vooral het laatste is kostbaar en pijnlijk. 'Terwijl je het kunt voorkomen door met een integrale bril te kijken naar de monodisciplinaire gezichtspunten die er al zijn', aldus Muller.
Het was Vincent Ronteltap van Philips Centre for Technical Training (CTT) die Mullers aanbod zag zitten. De programmamanager voor trainingen adviseerde de aanstaande docent om deelnemers tijdens de systeem-architectuurtraining ook aan praktische opdrachten te laten werken. 'Daarmee leverde hij een cruciale bijdrage', zegt Muller. Ook de huidige trainers bij High Tech Institute kiezen steeds opnieuw een unieke case waaraan de deelnemers gedurende de hele week werken en die ze op de laatste dag ook daadwerkelijk moeten pitchen.
De opdracht – het is altijd een praktische case op maat – loopt als een rode draad door de vijf trainingsdagen. Elke dag werken de deelnemers een aantal uren aan de case, geïnspireerd door de theorie en talloze praktijkvoorbeelden die aan bod komen.
'Het is een feest van herkenning: mensen ontdekken dat in andere organisaties dezelfde soorten problemen spelen.'
Zoals alle trainingen bij Philips CTT was Sysarch in de beginjaren alleen toegankelijk voor deelnemers binnen de Philips-organisatie. Dankzij mond-tot-mondreclame werd de cursus snel populair binnen de productdivisies van het gloeilampenconcern en kon CTT de training zonder probleem vier keer per jaar uitrollen.
Naast open enrollment startte Muller ook met in-huis varianten. 'Met open inschrijvingen zit er veel waarde in kruisbestuiving', legt Muller uit. 'Het is vaak een feest van herkenning: mensen ontdekken dat in andere organisaties, domeinen en systemen dezelfde soorten problemen spelen.' In-house cursussen geven juist weer de mogelijkheid om iets dieper op specifieke systemen en organisaties in te gaan. Ook dat heeft duidelijk zijn waarde.'
In de kern behandelt de training tien gezichtspunten op systeemarchitectuur, zoals requirements engineering, key drivers en strategieën voor systeemintegratie – ieder gemiddeld een halve dag. Deze invalshoeken en kennisdomeinen evolueren overigens. Sinds een aantal jaren geleden komen bijvoorbeeld ook scrum en agile technieken aan bod. 'In de cursus simuleren we wat een systeemarchitect in zijn hoofd continu doet: heel snel meerdere gezichtspunten de revue laten passeren', aldus Muller.
Mullers training was zo succesvol dat hij tijdens een bijeenkomst van de System Architecture Study Group vroeg om bijstand. De daar aanwezige Ger Schoeber voelde daar wel wat voor. Het leek hem een spannende uitdaging. Hij had volop ervaring opgedaan in de systeemontwikkeling bij High Tech Automation en Ordina en werkte nog niet zolang als zelfstandige. Schoeber: 'Ik heb er kort over nagedacht. Het geven van presentaties of op een podium staan is niet mijn eerste natuur en dit gaf me een mooie kans om mijn comfort zone op te rekken.'
Na een gesprek met Gerrit Muller en de programmamanager van Philips CTT kreeg Schoeber september 2002 zijn vuurdoop met een vijfdaagse Sysarch. 'Ik had absoluut de indruk dat de zestien deelnemers eigenlijk veel meer systeemarchitectuur-ervaring hadden dan ikzelf', lacht de man die de training inmiddels vijftien jaar met veel succes geeft.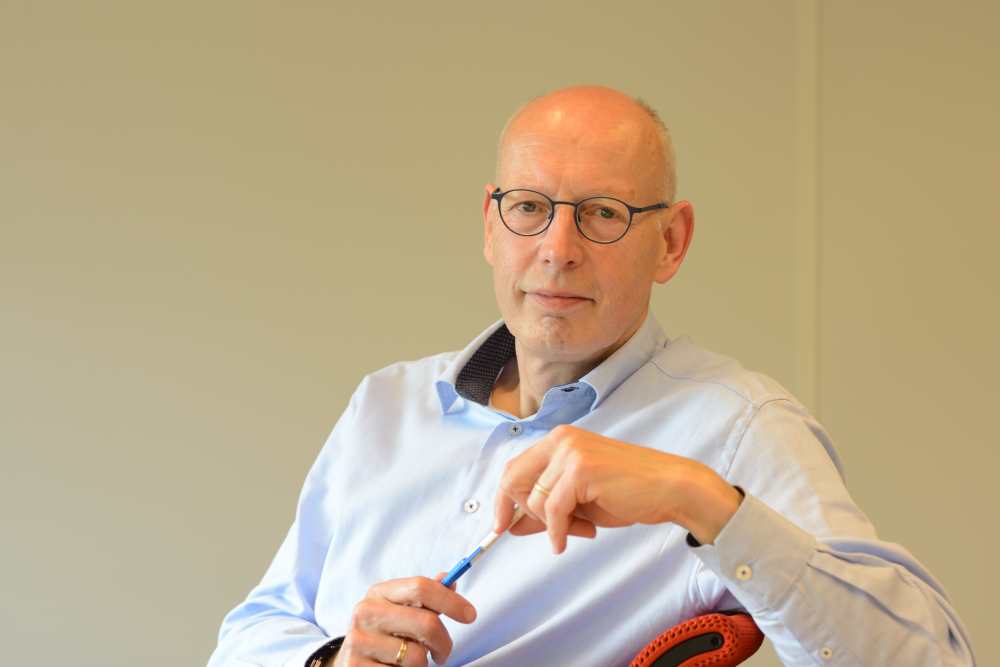 Ger Schoeber – docent training System Architect(ing)
Schoeber was in zijn eerste Sysarch-jaren getuige van een sterke groei. Het aantal edities steeg en er kwam meer trainingsmateriaal beschikbaar. Gerrit Muller was inmiddels begonnen aan een promotie op het onderwerp systeemarchitectuur en zijn bevindingen werden vaak meteen doorvertaald naar onderwerpen voor de training.
Daarnaast leerde Schoeber zelf veel van zijn eigen ervaringen in projecten. Hij was tien jaar lang betrokken bij kleine en grotere multidisciplinaire projecten bij OEM's. Sinds 2011 is hij in dienst bij Hotraco en vult bij de agri-onderneming de rol in van innovatie- en technologiemanager. 'In al die gevallen heb ik de Sysarch-theorie ook in de praktijk kunnen toepassen. Het leverde mij veel waarde op voor mijn eigen projecten en directe ervaringen met toepassen van het materiaal, iets dat ik weer mooi kon inzetten als voorbeelden in de training.'
'De CAFCR-methode heeft me veel inzicht, waarde en ervaring opgeleverd.'
Nadat Gerrit Muller in 2004 promoveerde op CAFCR (Customer objectives, Application, Functional, Conceptual, Realization), gaf Schoeber dit framework steeds meer een expliciete plek in de training. 'Ik ben de CAFCR-methode zelf voor het eerst gaan toepassen in 2005, waarbij ik in een project als systeem architect verantwoordelijk was. Dat heeft me heel veel inzicht, waarde en ervaring opgeleverd.'
In 2011 droeg Philips Centre for Technical Training zijn totale portfolio over aan expert-bedrijven in de regio Eindhoven. Dit leidde korte tijd later tot de oprichting van High Tech Institute, die de trainingen in samenwerking met de expert-partijen op de markt brengt.
Van 2011 tot 2016 maakte de Sysarch trainingen een mooie evolutie door. In de Philips-tijd kwamen deelnemers vooral uit de Philips-productdivisies en grote spin-off bedrijven als ASML, Fei en NXP. Tegenwoordig is de bezetting veel meer gevarieerd. Tijdens de editie van oktober 2017 namen bijvoorbeeld veertien verschillende bedrijven deel. Slechts twee daarvan stuurden twee deelnemers.
Dat onderstreept de waarde die de Sysarch-training met open inschrijving heeft: deelnemers maken kennis met andere professionals die met dezelfde problemen worstelen.
Aanbeveling van eerdere cursisten
Aan het einde van de training vullen cursisten een evaluatieformulier in. Op de vraag: 'In welke mate wil je deze training aanbevelen aan anderen?' kwam een gemiddeld cijfer van 7.9 op een schaal van 1 - 10.
High Tech Institute organiseert de training System Architect(ing) 3 à 4 keer per jaar op locaties als Eindhoven, Delft, Leuven en Zwolle.