In order to prevent the spread of COVID-19, High Tech Institute is implementing the following measures:
High Tech Institute will act at all times in accordance with the latest guidelines imposed by RIVM and Dutch government. So please stay home if you or someone in your household have/has symptoms of a cold like nose cold, running nose, sneezing, sore throat, mild cough or an increase from 38 degrees fever;
The 1.5 meter distance is again mandatory. This means that we set up our rooms (in exam arrangement) so that you can train or meet with participants at 1.5 meters.
Please note that our training location partners BCN, Academisch Genootschap and Holiday Inn Eindhoven are taking all kinds of precautions in order to prevent the spread of COVID-19;
The positive effect of the situation is that for some courses, the development of an online variant is now in full swing. Please look at our portfolio for online courses.
IMPORTANT: show proof of Covid-19 vaccination, recovery or a negative test
From 25 September 2021, our training locations are obliged to check and scan a valid QR code of the participants. This way we can receive you safely. The QR code is obtained with proof of Covid-19 vaccination, recovery or a negative test.
Residents of the Netherlands
As a resident of the Netherlands, you can download the Corona Check App for this purpose. Would you like more information about the importance of the Corona App or do you have any questions about it? Then please visit coronacheck.nl. It is also possible to obtain a QR code on paper.
Visitors from abroad
Are you entering or returning to the Netherlands from abroad? Take a look at this checklist from the government.
Protocol & code of conduct
Our training location partners published their COVID-19 protocol online. Please read it carefully, before attending the first meeting:
An impression
Video of BCN, our training location partner, and their COVID-19 measures. 
Video of  IHG Hotels & Resorts, our training location partner, regarding the measures at Holiday Inn Eindhoven.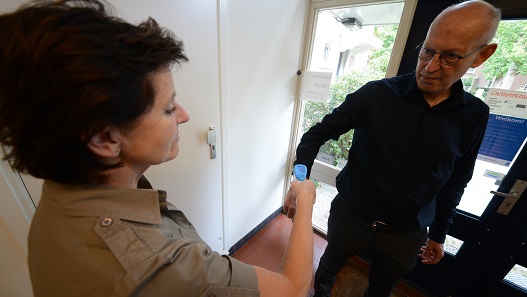 At AG Zalenverhuur (also known as Academisch Genootschap) the body temperature of all guests is measured.
Also, read this newsitem with photos of trainings during the Netherlands' 2nd corona wave.