High Tech Institute has entered into a joint collaboration with Cydrill, a Hungarian specialist focusing entirely on training courses about safe software. The first training course 'Secure coding in C and C ++' successfully took place in Eindhoven recently.
Founders of Cydrill, Ernõ Jeges and László Drajkó, recently signed an agreement with Ger Schoeber and René Raaijmakers of High Tech Institute. Cydrill is a Hungarian Institute that offers a large number of training courses in the field of secure coding. Security for embedded systems is one of its specialities.
Cydrill director Ernõ Jeges explains that his goal is not to educate people about hacking, but to develop paranoia. 'This emotion is important,' he says. 'It has an impact impossible to achieve with online training.' According to László Drajkó, secure encryption doesn't require extra time. 'It takes time to learn it, but not afterwards.'
Ten people took part in the first edition of the Secure coding in C and C ++ training course that High Tech Institute organised in collaboration with Cydrill. They gave the trainer Ernõ Jeges an average score of 8.4 out of 10 for his training. Some of the feedback from the participants read as follows: 'Very good training session, with many illustrative examples to make me aware of software security issues'; 'Course was very interesting and I found it very revealing '; 'I appreciate the content of the course, the trainer lived up to expectations.'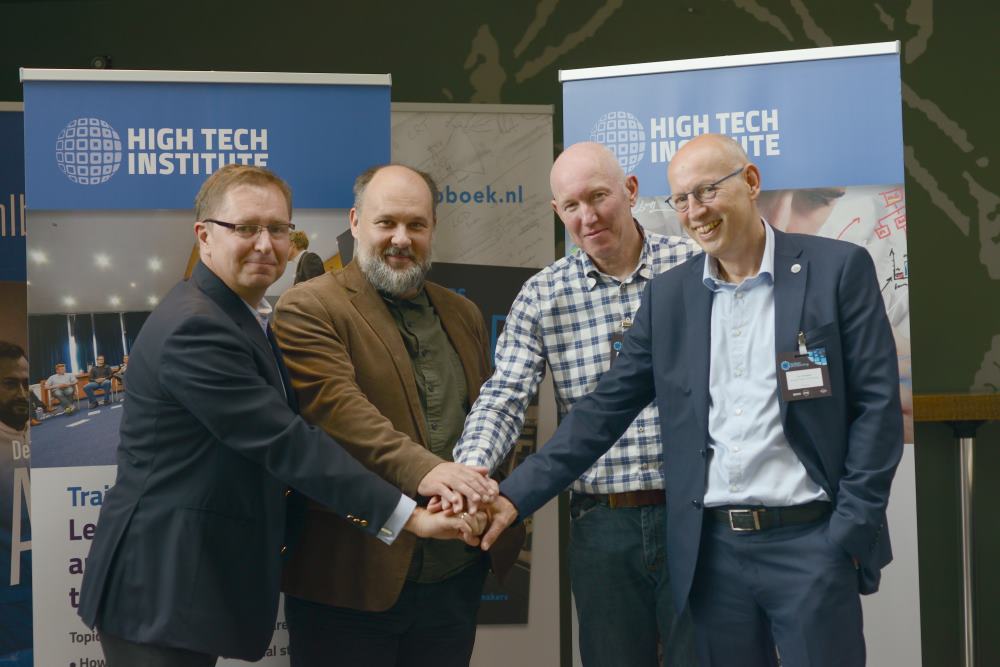 'In our training course you don't learn how to hack, but you do learn how to sideline hackers,' say Ernõ Jeges (2nd from left) and László Drajkó (left) from Cydrill. They recently entered into a joint collaboration with René Raaijmakers (2nd from the right) and Ger Schoeber (right) from High Tech Institute.