In today's high-tech environment, companies of all sizes are looking to stay at the cutting edge of innovation. According to team leaders Martin Langkamp and Martijn Bouwhuis of Almelo-based IMS, the equation is easy. It comes down to a few key factors: keeping the employees interested, keeping the workplace light and focusing on personal development through training.
Dutch innovation in the high-tech sector comes from businesses of all sizes. While big names like ASML and Philips are recognized around the globe, there are also several small and medium enterprises (SMEs) in the Netherlands playing a big role in global high tech. Take, for example, Almelo's IMS. IMS has been around for just over 20 years, opening its doors in 1999 after it was spun out of Texas Instruments through a management buy-out.
Now, in 2020, the automation and technology expert has delivered more than 750 production lines with an emphasis on the medical device, smart device and automotive domains. "We've grown a lot since the early days. Now, we see our role as helping our global customers realize their production goals," explains Martin Langkamp, technical sales coordinator at IMS. "We do that by delivering our innovative machines all over the world that excel in the high-volume production of small, precise and sometimes extremely complex products."
Character
While IMS's global customer base is certainly large, the company itself has a relatively small footprint – employing more than 120 people at its Almelo and Groningen locations in the Netherlands. Despite its small stature, it's having a big impact on consumer electronics. Currently, the high-tech machine maker is active in delivering machines used in the assembly process for the smart device and automotive sectors, in addition to next-generation headlights and sensors for cars.
"The character of IMS is that we're always focused on innovation, not just locally, but globally," highlights Langkamp. "That means we do a lot of international projects, which offers our engineers exciting opportunities to travel, learn and share knowledge. That's part of our DNA."
'We use education-based developmental plans in our evaluation process, to help people and the company meet our goals.'
Another focal point in the character of IMS is the focus on the personal development of its employees. "One of our main focuses is on continuing education for our workers. We find that trainings, workshops and conferences are a great way for our engineers to develop both personally and professionally," comments Langkamp. "In fact, as we look to the future as we continue to innovate, the necessary competencies of a position can expand and the engineers may be guided to specific courses to bolster their skills. We actually use education-based developmental plans in our evaluation process, to help people and the company meet our goals."
Modularity
Recently, IMS found a golden opportunity to utilize training. Looking to continue to grow and push the cutting edge of complex part manufacturing, the company took on a new role for its customers, helping lead them in the design of production machines by offering series-based machines, rather than one-offs.
"For many years, R&D operated more reactively for development, finding solutions for the customers as they arose," recalls IMS R&D team leader Martijn Bouwhuis. "More recently, however, we've started to adopt new methods to become more proactive in the process and we've focused our efforts into making standardized products that can be tailored to fit our individual customers."
To get these standardized products, IMS decided that modular thinking was the best way to achieve the new goals and it started laying the foundational work to get its workforce aligned on the idea. However, it was during the Bits&Chips System Architecting Conference, the team found that their modular approach fits perfectly with the principles of system architecting. Langkamp: "For a few years, we'd already been adjusting our processes, but we were looking for a better structure with more continuity within the whole of the company."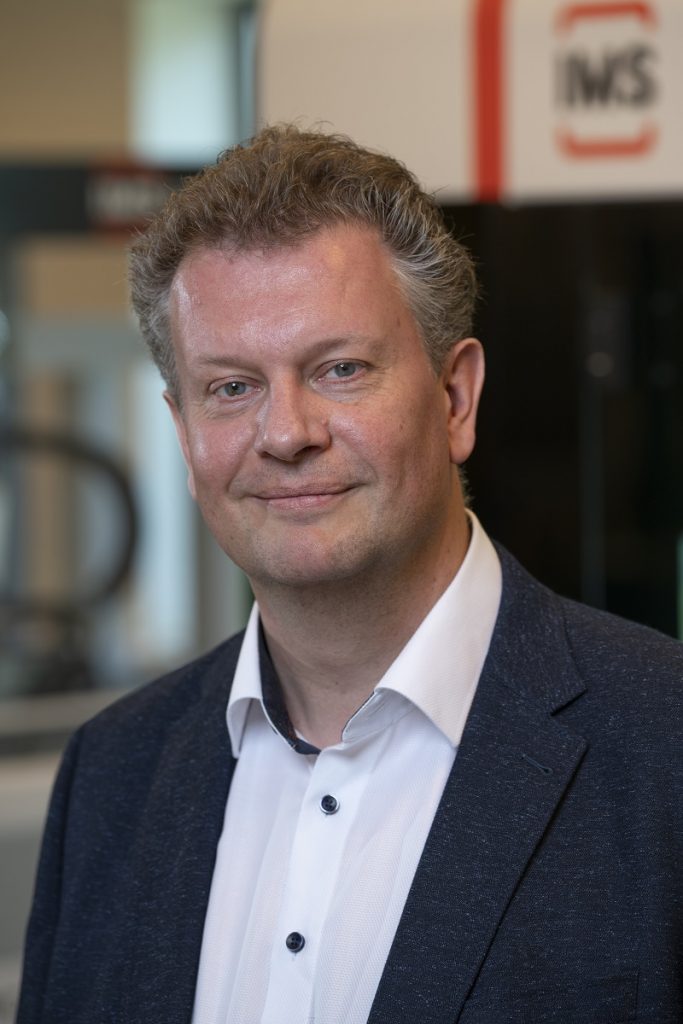 According to technical sales coordinator Martin Langkamp, one of IMS's main focuses is on continuing education for our workers. Credit: Fotowerkt.nl
'It was time to update and professionalize our working methods.'
Bouwhuis: "While we were assessing the best way to progress, we found that often in the design process we would focus on subsystems because that's where the value was added. Somehow, we forgot to look at things from a system level. But as the complexity of the parts our machines are making continues to explode, it's clear that software engineering has become more important than ever and it was time to update and professionalize our working methods."
Rather than sending a few team members to a relevant training, IMS reached out to High Tech Institute to develop its customized in-company edition of the System Architecting training, allowing the Almelo-based company to bring in a broad and diverse group of its team. "It's important in our transition to establish cohesion among all the different disciplines and departments," says Langkamp. "From mechanical to electrical and software engineers to the sales team, the goal was to get everyone on the same page, thinking at a system level."
Added value
"The reason we selected High Tech institute was because of the strength of its instructors. Their knowledge and expertise matched our needs precisely," emphasizes Bouwhuis. "What we appreciated the most was that the trainers found ways to trigger discussion, which got our group of about 12 trainees really participating. This interaction between the team and the instructors, all with different perspectives, really enhances the training with a lot of added value."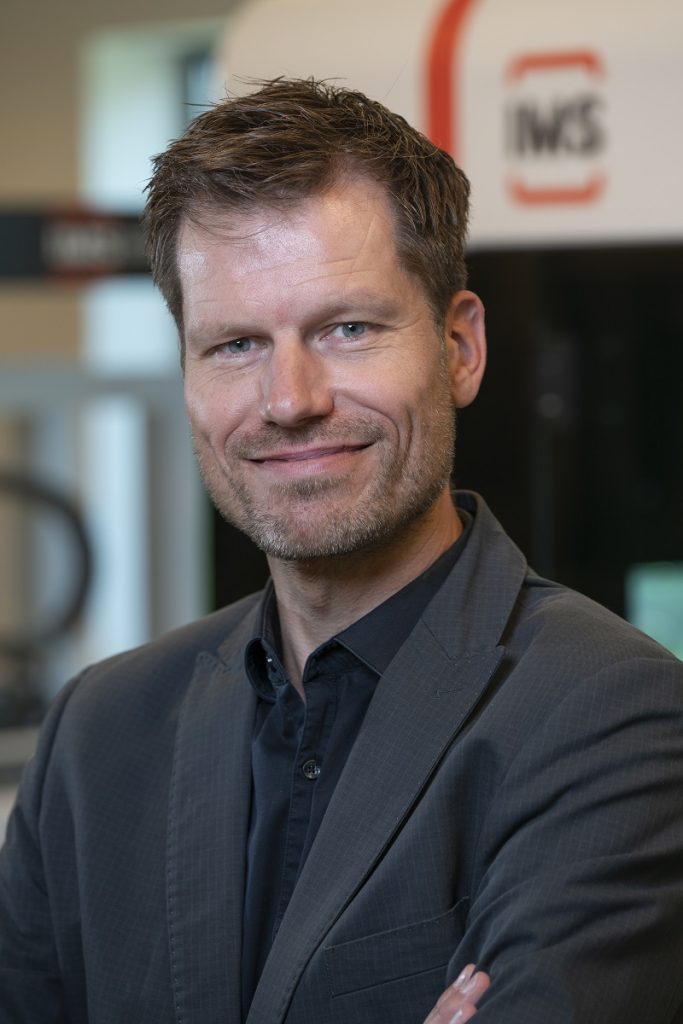 "This interaction between the team and the instructors really enhances the training with a lot of added value," says IMS R&D team leader Martijn Bouwhuis. Credit: Fotowerkt.nl
Does IMS use training to attract or keep its skilled engineers? Is it difficult to compete with larger companies in the high-tech domain?
"Yes and no. Yes, training and education opportunities are a great tool to attract and retain our engineers. But, as far as competing or losing our skilled workers to the bigger companies, no, that's not the case. In fact, I think the size of IMS, the scope of our work and our approach is something that draws people to us and makes them want to stay," illustrates Langkamp. "In the Brabant region, it's pretty common for engineers to bounce around from place to place, but here at IMS and in the Twente region in general, it's just not as common."
'Sometimes we refer to IMS as a high-tech playground for engineers.'
"Because we're small, we're able to keep things light and fun in the workplace. Of course, we're extremely professional in working with our customers. But the people here are more than just a number and embracing that mentality means we can operate as a family and have fun," adds Bouwhuis, joking: "Sometimes we refer to IMS as a high-tech playground for engineers."
"Yes exactly. Because of our roots from Texas Instruments, we sometimes joke about having people working here for 40 years, but the company is only 20 years old," laughs Langkamp. "By keeping our people interested with exciting projects, a light-hearted informal workplace
and a focus on our workers and their development, IMS is in a strong position to continue innovating."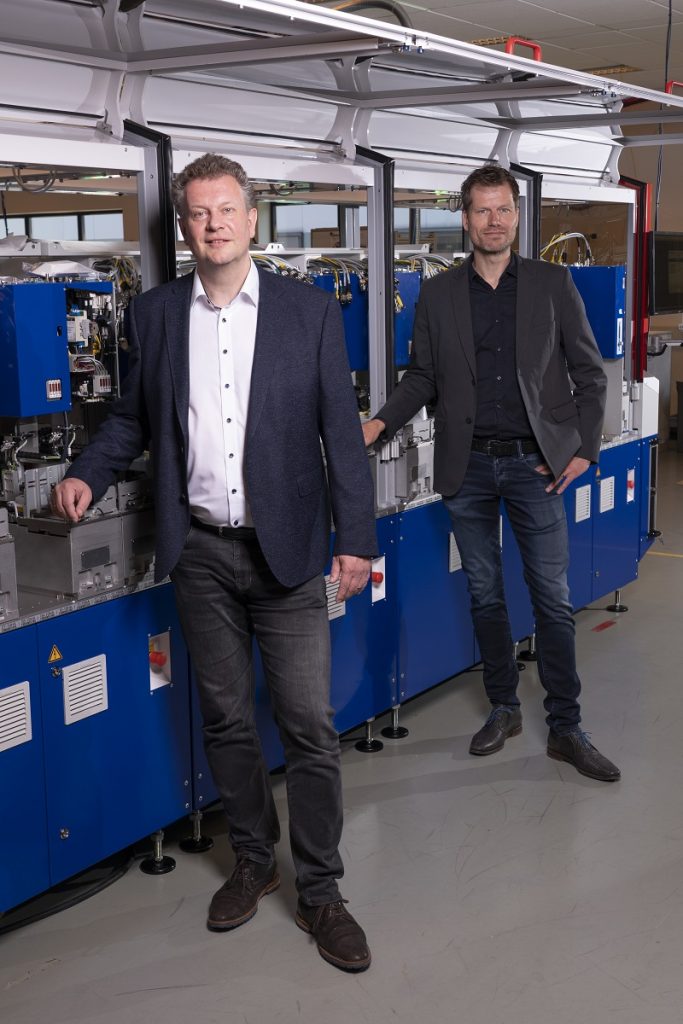 Photo credit: Fotowerkt.nl
This article is written by Collin Arocho, tech editor of Bits&Chips.
Recommendation by former participants
By the end of the training participants are asked to fill out an evaluation form. To the question: 'Would you recommend this training to others?' they responded with a 8.8 out of 10.
High Tech Institute organizes the 'System architect(ing)' training throughout the year at multiple locations.