Training in software engineering can be done online, one might say. But when Onno van Roosmalen and Martijn Ceelen sat down last month to make their Object-oriented analysis and design course corona-proof, they could not come up with a 100-percent remote version.
For the two seasoned trainers, who are mainly driven by effectiveness, the problem to solve was the extent to which the training would stick with participants. It is through this lens, however, that the gentlemen decided that  Corona was not going to win without a fight. Instead, Onno and Martijn came up with a blended learning variant of their much sought-after OO design training, one of which they expect the fabric to stick even better, through more practice and intensive personal online guidance.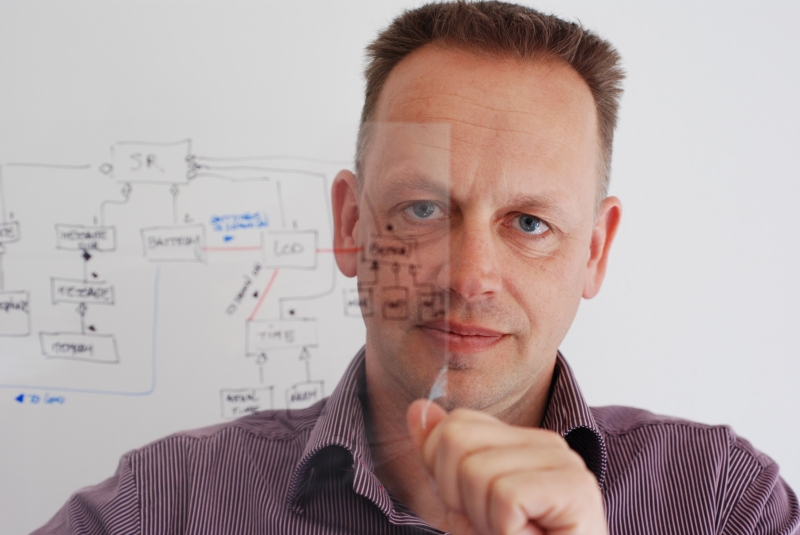 In the training 'Object-oriented analysis and design' participants draw their designs out of hand. Trainer Martijn Ceelen even still likes to use overheadsheets for that.
The duo will use Canvas, the online learning system that High Tech Institute has been using for the past several months. Martijn was already familiar with it, and Onno was "pleasantly surprised" when he saw the possibilities. Unlike the physical training, Onno and Martijn explicitly ask the participants to bring their own work with them. They expect that by utilizing existing cases, course-goers will be better able to put what they have learned into practice.
On 18 and 19 June, the course will kick off from the virtual classroom, with a maximum of twelve students joining the online training for six hours each day. The two-day completion of the course will be held in-person in September.
During the months in between, there will be an online question session every two weeks. The students ask questions and discuss the cases they have brought in from their own practice. "That's the crux," says Onno. He expects that this will ensure that the methods learned will stick even better.
In the future, Onno and Martijn expect to offer online coaching and guidance to former students as a refresher opportunity. "But first, we want to gain experience with it during the next session."
In the past, Onno provided online training via another system. At the time, that was a bit of help. "I couldn't see the students, so I set up a second screen with the photos of my students." The preparation for the blended version is almost finished. "I'm going to buy another new router, so my Wi-Fi works perfectly."
High Tech Institute organizes the blended OO training  once or twice a year.