In the week of 8 to 12 June High Tech Institute organized its first one and a half metres Sysarch training in Zwolle. The intensive week for system architects led by Luud Engels was originally on the agenda last March, but was postponed to this month.
Coincidentally, this was the first Sysarch with open registration in the North of the Netherlands. It was a nice bonus that training location BCN – with a view of the NS railway station in Zwolle – is spacious. The wide corridors and large classrooms offered sufficient space to carry out the corona rules practically well.
Everyone knows that the current circumstances occasionally cause some uncomfortable encounters: a colleague who almost runs into you because he or she is just around the corner or who wants to come through the same door. At BCN the tightness was limited to the narrow stairwell. Only one person was allowed in the elevator at a time. In practice it was not that bad, especially since we were about the only guests.
Personally, I found it especially a disadvantage that lunch was served in the training room. Anyone who wanted to stretch their legs had to stand in the classroom or walk around the block. At BCN they always serve an excellent lunch, so it's a pity to have to miss the extensive meal choice this time.
Furthermore, the usefulness and nonsense of specific measures and possible solutions in a corona crisis naturally lead to pleasant discussions – something that system architects naturally excel at.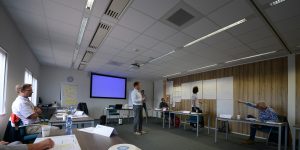 Classroom at BCN Zwolle with a setting for 10 participants and 1 trainer in times of COVID-19 measurements.