Driven by the needs of society, Omron has spent nearly 90 years developing innovative technologies to enhance people's daily lives. According to the company's European R&D manager Tim Foreman, this takes a commitment to keeping employees challenged and motivated by helping them enhance their skillsets with training. High Tech Institute provided a mixture of its soft skills & leadership trainings.
Perhaps you're not familiar with Omron, but one thing for certain, you've benefitted from its technology. From its first innovation of accurate x-ray control timers, to the magnetic strips on credit cards, early ATMs and digital blood pressure monitors used at doctor's offices – the company has been at it for more than eight decades. "Our philosophy has always been, to create value based on the needs of society," describes Omron's European R&D manager, Tim Foreman. "Society changes, and we're continuously adapting to find innovative solutions to newfound issues. That's what keeps us at the leading edge."
Employing some 40,000 people around the world, Omron has received numerous recognitions, including a spot on the Derwent Top 100 Global Innovators by Clarivate Analytics and a top ranking on the Dow Jones Sustainability Index, which uses several indices to track sustainability efforts by publicly traded companies. "To make it on these lists is a great honor for us at Omron," expresses Foreman. "It shows that not only are we among the innovation leaders in our field, but as a company, we keep our focus on the environment and do it in a smart way."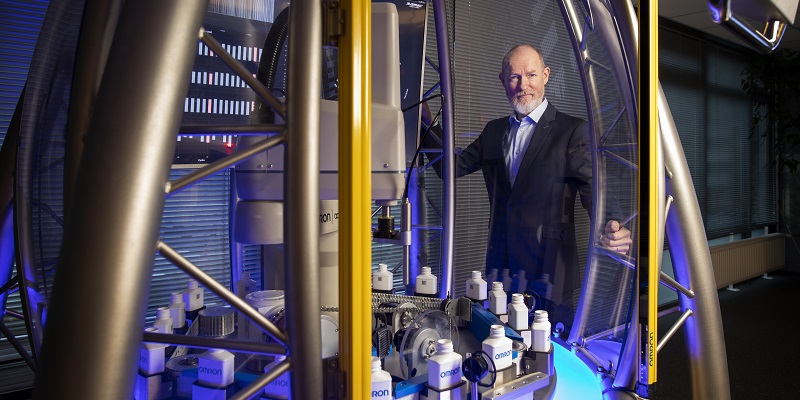 Photo by Vincent van den Hoogen.
Tsunagi
Originally known as Tateishi, the Kyoto-based Omron has built its foundation on two key technologies: sensing and control. For instance, remote control devices in automobiles that detect your proximity to your vehicle, before automatically unlocking the doors as you get within a close distance. "It was these electronics components, the switches and relays inside of devices, that really got the business going," explains Foreman. More recently, as technology has advanced, the company added a third core focus, referred to as "think," aka machine learning.
The spotlight, however, isn't simply on developing individual products, it's about providing outstanding customer service. Behind the core technologies of Omron is for example the service known as Tsunagi – a Japanese word that translates to "filler". "Tsunagi means that in your house, if you find a crack in the wall, you fill it in and repair it," illustrates Foreman. "In the electronics business, it's common to source parts from different vendors. Perhaps you choose Omron's IPC, but another company offers you a highly specialized sensor that you need. The two parts should be compatible, but sometimes the user will get an error message. Rather than place blame or leave the customer to contact others, at Omron, we look to fill in the cracks. We tell our customers, no matter the issue, call us. We've put together some 400 small manuals to make systems work seamlessly and to provide expertise in interoperability – that's tsunagi."
Stakeholder management
With a portfolio of more than 200,000 products, Omron's focus on interoperability and integration is a crucial part of the business. Not everything can be perfectly integrated, and when you're dealing with different global offices, that can get tricky. An example, a safety sensor developed in Italy needs to work seamlessly with a control device developed in the Netherlands. This relies heavily on the communication abilities between the groups. "If the two sides fail to talk, it becomes immediately clear to our customers," says Foreman. "That's why we place a real emphasis on communication during the entire development of new products. When things are seamlessly integrated, our customers can clearly see the benefit of what we offer."
'In the high tech world, conveying your message effectively is an essential piece to the puzzle.'
To achieve enhanced communication between units, Omron's R&D manager turns to trainings and courses. "We have some incredibly bright employees at Omron, all of them very technically gifted, be it in software, mathematics or electronics. But while their technical skills may shine, it's a much smaller percentage that also have strong social skills," clarifies Foreman. "While especially skilled, our engineers sometimes don't have the tools or experience to effectively convey their message. In the high tech world, that's an essential piece to the puzzle."
"You have to know how to sell your story and motivate others on the team. Furthermore, when you know you've got a good idea, you need to know how to approach upper management and convince them. It's all about stakeholder management – a very expensive and very important term," continues Foreman. "That's why we turned to High Tech Institute to help us create Omron's Talent Academy Training. They speak the right language; they understand the ecosystem and help give our boys and girls the tools to greatly improve on these skills and others."
Motivation
This isn't the only benefit that Foreman sees with training his employees. "It's really just a question about how you keep talented workers, especially in the competitive high tech industry. The answer is simple: you've got to keep your people motivated. But how do you do that? Of course, you start by giving them a good salary, but that's not enough. It's done by giving them interesting challenges that apply to real-world issues and offering them state-of-the-art tools, equipment and training to tackle these issues," claims Foreman. "It's about creating a working environment where they can have fun and enhance their personal knowledge and skillsets. When these criteria are met, it shows in the final product and ultimately, improves its popularity on the market. What better motivator is there?"
It's precisely these efforts to retain its talented workforce that are perhaps more telling than the total number of workers employed by the electronics company. At Omron, there are some workers that have been with the business for more than 30 years already. "These people have spent thousands of hours with their machines. They can be 10 meters away from them, hear an unusual noise and instantly know what the problem is," boasts Foreman, himself a 26-year employee of the company. "But to be perfectly honest, that's not a modern practice anymore. Nowadays, employees want to get a variety of experience – to try a little of this and a little of that."
Omron's solution: offer its employees broad access to various trainings for individual improvement. At the same time, the company works in-house to develop and apply computer learning models that allow machines to learn from the experienced operators. "The machines can then fill in the gaps and help guide a newer generation of operators," suggests Foreman. "That's the sort of technologies we're currently working to develop at Omron."
This article is written by Collin Arocho, tech editor of Bits&Chips.
Check out our soft skills & leadership courses, which are specially developed for technology professionals.