Two years in a row, Industrial Technology Research Institute (ITRI) from Taiwan, invited High Tech Institute to help introduce System Architecting-thinking in their organization. We asked executive vice president Pei-Zen Chang to tell us about ITRI's ambitions and the role of system architecture in keeping the Taiwanese industry competitive in this age of fierce international competition. This is where the system architect(ing) training comes in.
It was July 2017 when Ger Schoeber arrived at Taipei international airport to lecture his first system architecting training in Taiwan. The next day he arrived at his final destination, the renowned Industrial Technology Research Institute (ITRI) at Chutung in the Hsinchu region. There the Dutchman faced a firing squad. Figuratively, that is.
All began very friendly. ITRI's former executive vice president Charles Liu kicked off a week of training by introducing Schoeber to sixteen participants, all senior executives and cross-domain project leaders of the Taiwanese institute. Liu told Schoeber with a smile that his colleagues had all prepared well. They had read the material and were actually not so impressed. Some even had asked Liu why they had to clear their agenda for the whole five days for this stuff. "I wish you good luck this week," Liu pronounced firmly.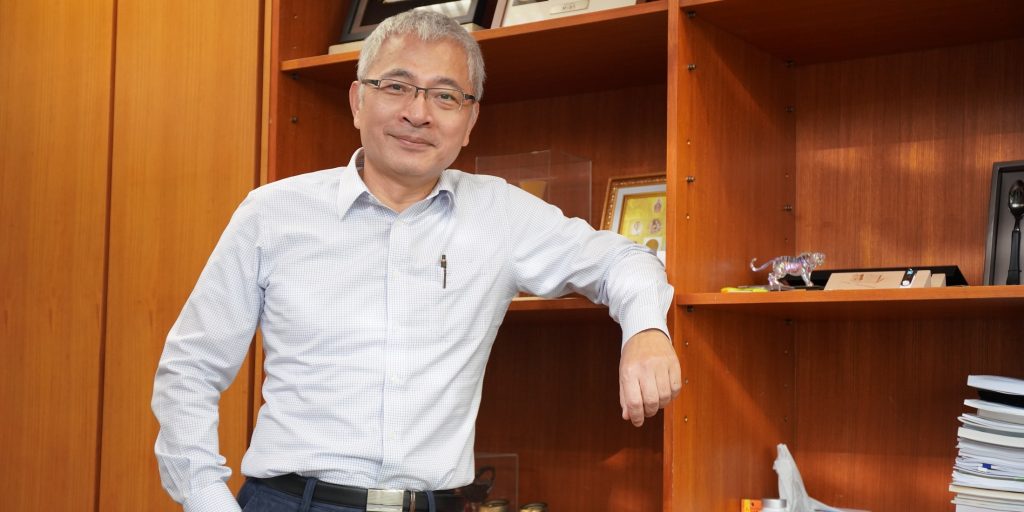 Pei-Zen Chang, executive vice president of ITRI: "System architecture knowledge will contribute to value creation across Taiwan's industry. Photo: ITRI
To Schoeber, Liu's message was clear. He had to prove that his System Architecting (Sysarch) training was worth the investment for ITRI. Schoeber faced five days of lecturing a group at the level of vice president and higher. At that moment in time, he had to swallow, Schoeber admits two years later.
ITRI and High Tech Institute got acquainted in 2016. Dr. Jonq-Min Liu, at that time president at ITRI, wanted to strengthen the institutes systems thinking knowledge to overcome cross-domain problems. Liu directed that ITRI College should do an assessment and this subsequently evolved into a recommendation to seek cooperation with the High Tech Institute of the Netherlands.
ITRI College identified a system architecting training at High Tech Institute that originated from abundant experience in complex systems development at Philips and ASML. The Dutch institute is a spin off company from Philips since 2010. As the successor of Philips Centre for Technical Training it is active in post academic education for technicians in the open market.
ITRI wanted to introduce the System Architecting course with the goal to train leaders of cross-disciplinary projects. It should help them to handle cross-domain planning, management, communicating and resolving system problems. Edwin Liu, the president of ITRI, firmly believes in a systems approach for his organization: "In addition to continuously deepen scientific and technological innovation and R&D, ITRI must carry out cross-unit and cross-disciplinary cooperation to bring about industrial transformation."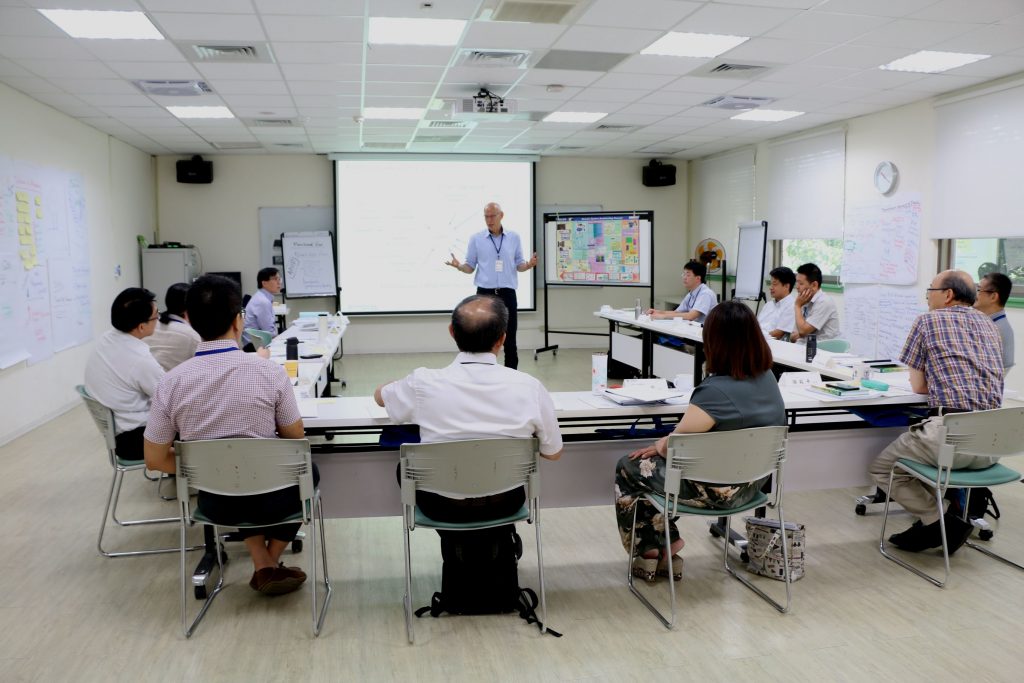 Ger Schoeber teaching system architecture at ITRI in July 2018. Notice the abundance of paper on the wall, resulting from discussions and learning exercises. At the end of the week usually the whole class room is covered with paper.
ITRI's role in Taiwan
Industrial transformation, that's what ITRI is all about. The institute is a nonprofit R&D organization engaging in applied research and technical services. Since its foundation in 1973, ITRI grew to one of the world's leading technology R&D institutions. It has played a vital role in transforming Taiwan's economy from a labor-intensive industry to a high-tech industry. "ITRI's mission is to assist Taiwan's industrial development," says Pei-Zen Chang, the executive vice president who is responsible for introducing system thinking at ITRI. "It has been mandated not only to provide assistance in technological development, but also to assist in industrial transformation and development."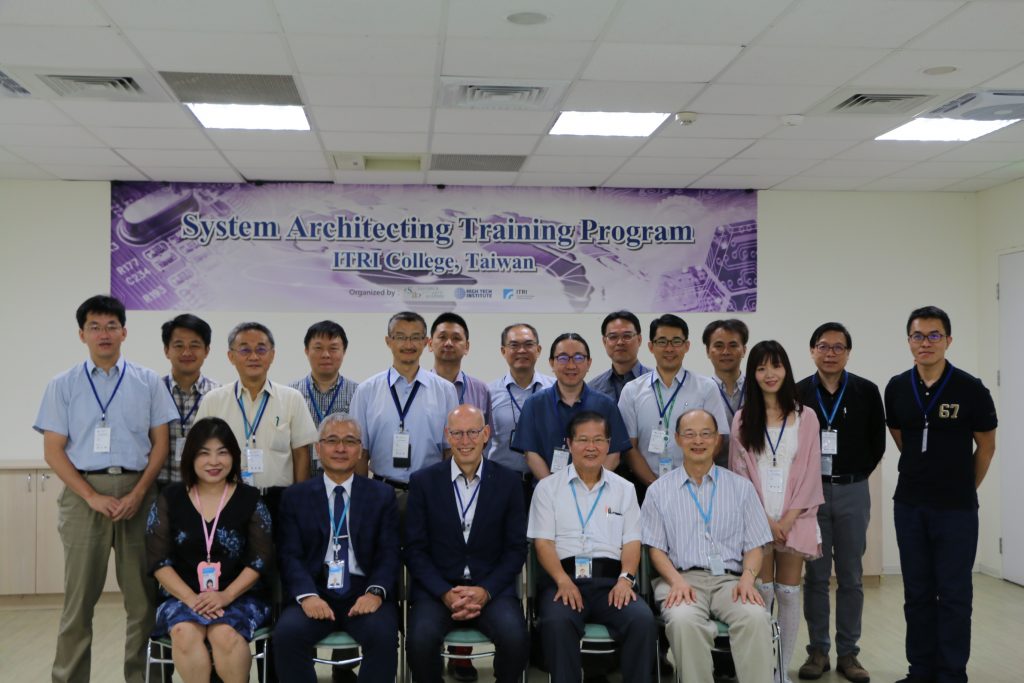 The 2018 System Architecture class with Pei-Zen Chang, the executive vice president of ITRI (sitting 2nd from left) and trainer Ger Schoeber (sitting in the middle).
Taiwan and The Netherlands are similar in size and population. Both countries know: if you are small, you have to be smart. Just like the Dutch, the Taiwanese people have relied on their determination and perseverance in search of optimal economic development models to compete with their larger and stronger neighbors. In this continuous race, the drive to excel in technology has always been a major force for Taiwan, and ITRI is playing a crucial role there. Even an imperative role, says Chang: "In the age of fierce international competition, Taiwan's industrial structure remained predominantly small. We have a lot of medium-sized enterprises that rely on our innovations."
The Taiwanese institute has been quite successful since its foundation. It helped incubate over 270 companies, including famous examples like UMC and TSMC. Its 6100 employees – over 80 percent of them hold advanced degrees – produce over a thousand patents annually (accumulated total number of over 27,000). Chang's message is that ITRI has to continuously help the Taiwanese industry to transform and upgrade –  a role comparable to that of TNO in The Netherlands and Fraunhofer in Germany.
One example is ITRI's involvement in the fiercely competitive machine tool industry. The R&D-institute developed the controllers that helped Taiwanese manufacturers to upgrade their products, become world-class and rival their German and Japanese competitors. Taiwan is a top-5 player in machine tools, on par with China. This market continues to be challenging, says Chang. "With the support of our Ministry of Economic Affairs, we have established a smart manufacturing demo line for product equipment performance verification and system commissioning in the field. This will keep us up with Industry 4.0 and such facilities are expected to gradually strengthen the entire system's capabilities.'
Smart logistics
Logistics is another example where systems thinking helped ITRI to work with industry on innovative solutions. The institute helped to introduce RFID, automation systems, smart pick-up station, and many more logistics technologies in Taiwan. Chang: "In the logistics industry there are many ways to get things delivered quickly. System engineering analysis enabled us to better understand the needs of the industry. It was evident to us that the identification and classification of various and voluminous items are key factors. Along the way ITRI helped steer Taiwan's logistics and e-commerce companies towards smart logistics and services."
'Research provides greater value when the development of technologies, components and modules is based on the needs of the industry'
Chang points out that value creation is a prime focus for ITRI. "Research provides greater value when the development of technologies, components and modules is based on the needs of the industry."
That's where system architecture comes in. Over the last couple of years ITRI invited industry veterans and system innovation experts to Taiwan to give lectures on system architecting. The institute wanted to infuse stronger system architecture thinking into its managers of various cross-disciplinary projects.
The goal was to establish a common language for the project leaders in different fields. Although the focus technologies in ITRI's focus fields 'smart living', 'quality health' and 'sustainable environment' can lie apart, the Taiwanese were convinced that a shared language among various labs and fields would strengthen innovative R&D cooperation.
Part of ITRI's strategy to introduce system architecture thinking was High Tech Institute's system architecting training, a five-day intensive course. Apart from theory, participants spend most of the training working on case studies with in-depth discussion and learning exercises. "Our goal is to gradually build up the system architecture thinking," says Chang. As a common language the participating students learn to think and talk according to the so-called CAFCR model.
CAFCR is all about moving into the customer's shoes. It forces system developers to not only look at the technology. The letters C, A, F, C and R represent five viewpoints to look at system architecture. Only two of them are about technology. Three are about the customer's perspective and that is where the greatest value of the CAFCR framework lies. Most important is the first C, that stands for 'customer objectives'.
"It is all about the customer," explains trainer Ger Schoeber. "What exactly is their business? How do they earn their money? What is the living environment of the customer or the colleague who is going to install my subsystem? If you really understand the customer, you will see much clearer what it is that they need in order to do better business. CAFCR forces you to look not only at the technology, but also at the specification and the rationale of the requirements. It allows you to come up with solutions that help customers even more."
'We keep strengthening the interdisciplinary competence of our labs and nurturing the professional talents for system integration'
ITRI's senior executives and various project leaders all attended the entire Sysarch course in 2017. A survey among participants showed that especially the CAFCR model did help project leaders to systematically promote and implement the projects they are responsible for. That convinced ITRI to continue with Sysarch in 2018. Chang: "To keep strengthening the interdisciplinary competence of our labs and nurturing the professional talents for system integration."
Participants valued the extensive experiences that Schoeber has in system architecting in industry and system innovation, Pei-Zen Chang points out. "Ger talked about the role of the System Architect and its importance in operating a company, and introduced System Architecting with detailed explanations, procedures, key drivers and CAFCR models. Ger has also deepened participants' understanding of the course content through role-play exercise. Using a hypothetical situation of 'proposing equipment solutions for bedridden senior people' over the five day course, he divided the class into four groups, and asked each to present their solutions to a company's senior executive or angel investors."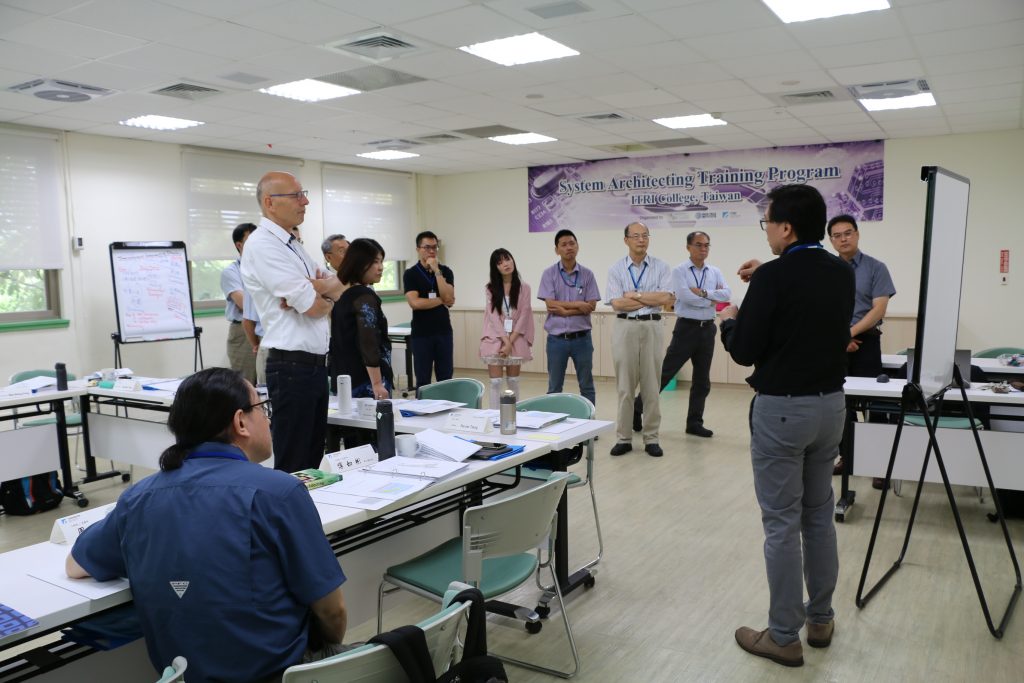 Case studies with in-depth discussion form a large part of the Sysarch training.
This proved an effective way to ensure the participants gained a thorough understanding from the course. "In addition, drawing from his rich practical experiences, Ger provided guidance to each group, so that the participants could correctly use the content and methods learned from the class", says Chang. With the above-mentioned systematic and professional curriculum and guidance, the course scored 4.97 points out of 5 in July 2018. "A very high satisfaction rating", smiles Chang.
Program directors that are designated to lead a cross-disciplinary project and have followed the Sysarch course will take the next step in system architecting at ITRI. Chang: "From now on they will effectively implement their newly acquired planning and maintenance skills, and share their experiences and knowledge with colleagues throughout the institute."
Once the entire ITRI has been ingrained with this market and customer demands oriented mindset, such system thinking and experiences will be disseminated to Taiwan's industrial sector. "In this way they will help accelerating its transformation and upgrading to create new value," says Chang.
Close relationship
In the past fifty years, key industries from Taiwan and the Netherlands have forged close relationships. Both countries have been able to carve out unique industrial advantages and flourish internationally. Chang points to the Philips TV factories that were set up decades ago in Taiwan. "This helped upgrade our nation's production knowhow and cultivate our talents," he says.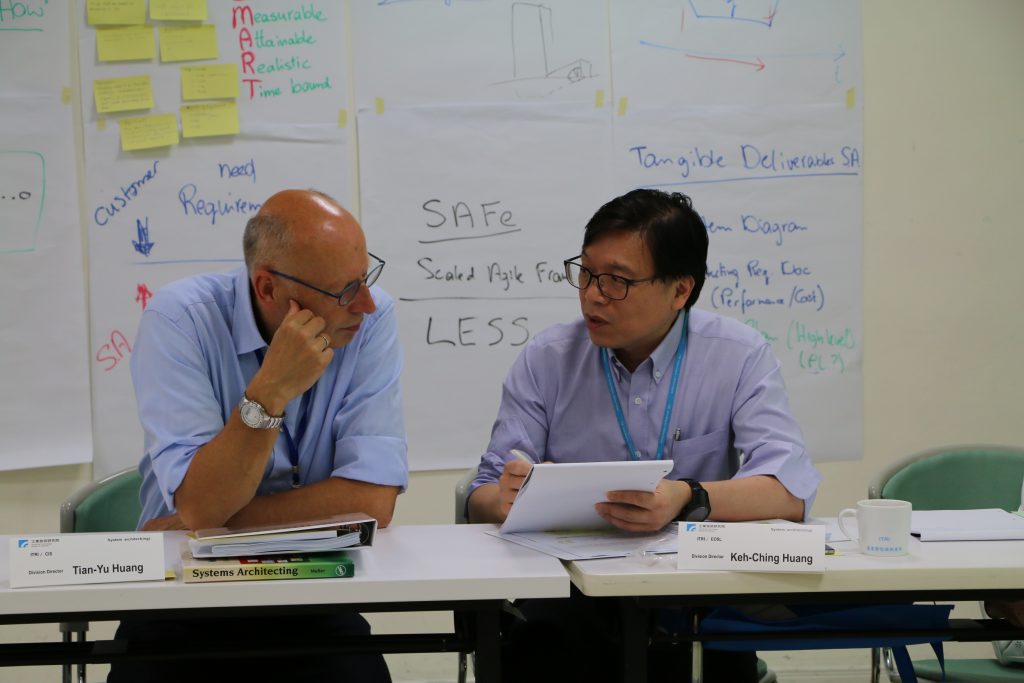 During Sysarch 2018 Ger Schoeber discusses the case 'equipment solutions for bedridden senior people' with division director Keh-Ching Huang, who is one of the participants.
In the 1980s Philips bankrolled the creation of TSMC. As the world's largest semiconductor foundry, TSMC is now one of ASML's  main customers. Recently ASML acquired Taiwanese Hermes Microvision, a specialist in metrology solutions for chip production.
Chang sees a bright future for the relationship between both countries. He points to the '5+2 Industry Innovation Plan' that the Taiwan government has been promoting in recent years. "This plan encompasses smart machinery, Asian Silicon Valley, green energy technology, biomedical industry, national defense industry, new agriculture, and circular economy," elaborates Chang. "We reckon that international cooperation is one of the most important means to implement programs as such, and there is no doubt the Netherlands will be an ideal partner for us to work with, given the country's deep experiences in system development and solid foundation with respect to semiconductor, agriculture, circular economy, green energy, precision machinery and so on."
ITRI underlined this by opening a physical presence at the High Tech Campus in Eindhoven. This office actively promotes scientific cooperation with the Netherlands. Chang: "Since ITRI is expected to take on some of the responsibility for implementing Taiwan's 5+2 Industrial Innovation Plan, I will spare no efforts to help strengthen the cooperation momentum with the Netherlands, in order to create for both countries high-value technology industries with blue ocean benefits."
This article is written by René Raaijmakers, tech editor of Bits&Chips.
Recommendation by former participants
By the end of the training participants are asked to fill out an evaluation form. To the question: 'Would you recommend this training to others?' they responded with a 8.8 out of 10.
High Tech Institute organizes the 'System architect(ing)' training throughout the year at multiple locations.