Training programs can be an effective tool for any high-tech company to attract new talent and help employees sharpen their skills. To Development Manager Stefan Vossen of Hittech Multin, training courses provide something much more important – a chance to discover your intrinsic motivation and realize your passion. Hittech Multin organized the 'EMC for mechatronic engineers' training in-company.
In 1994, Cor Heijwegen stepped down as a divisional director within the Hoogovens Group. The group consisted of numerous companies that supplied Hoogovens, now Tata Steel, with tools and materials used in the production of iron, steel and aluminum. On his way out, Heijwegen and a couple of colleagues decided to start their own business comprised of several of the Hoogovens suppliers, which was called Hoogovens Industriele Toelevering (Hoogovens Industrial Supply) or Hit Group. In 2004, it was incorporated as Hittech Group. Today, the corporation consists of eight self-governing, but not independent outfits, managed by a small holding company. By design, the companies are kept small, less than 100 people, to ensure flexibility, entrepreneurship and a focus on the customer.
One of Hittech's subsidiaries, Hittech Multin specializes in the development and production of mechatronic products for the medical, semiconductor, measurement and analytical industries. These products are subject to high qualification requirements and are often associated with accurate positioning, optics, vacuum technology, cleanliness and medical regulations. To achieve this, the Hague-based Multin branch requires a staff with a strong technological background, as well as the desire to enhance skills through training.
'To work here requires the mindset and an urgency to constantly improve and the willingness to really engage with customers.'
"It's no wonder that the majority of the development capacity of Hittech Group sits under the roof of Hittech Multin," remarks Development Manager Stefan Vossen. "To work here requires the mindset and an urgency to constantly improve and the willingness to really engage with customers. That's why so many of the technological advancements of Hittech are developed in, and with involvement from, this department."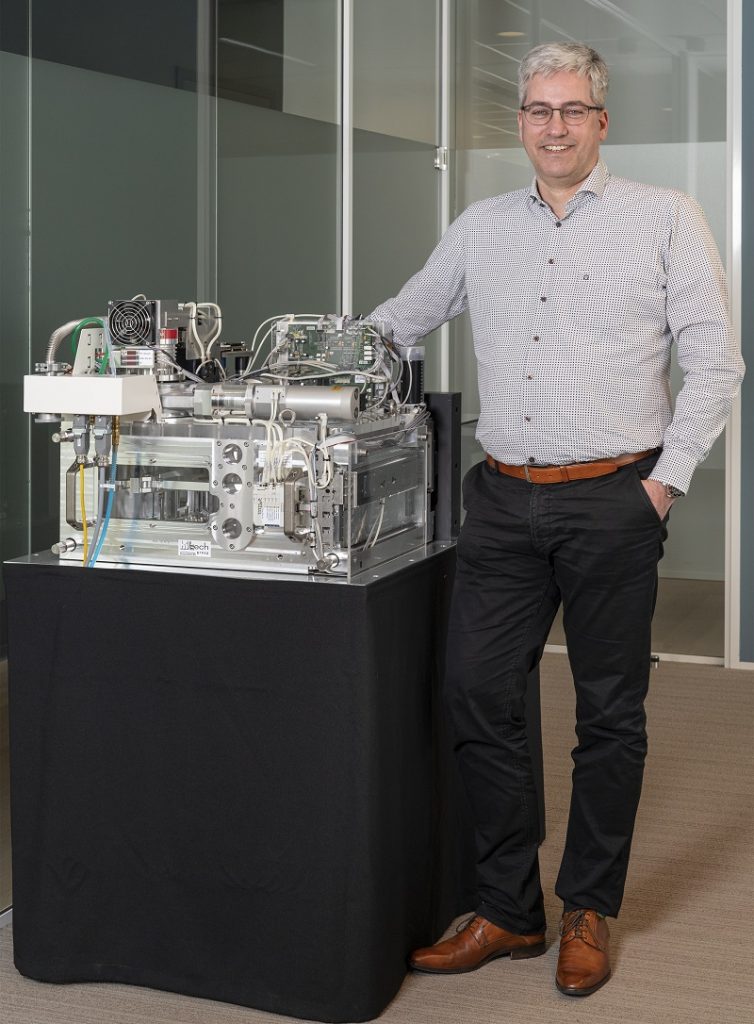 Stefan Vossen from Hittech Multin organized the 'EMC for mechatronic engineers' training in-company. Photo by Fotowerkt.nl
Philosophy
To maintain the customer-oriented focus, Hittech is continually looking to shake things up and employ out-of-the-box thinking to adapt and better fit its customers' needs. After all, its mantra is "masters in improvement". One tool the systems development company uses to ensure this is training. "I have a different kind of philosophy when it comes to training. I've noticed a number of times when attending my own courses, there's a stark difference between those that are motivated to be there and others that are obligated to attend," recalls Vossen. "The truth is, if you're not intrinsically motivated to be there, you're not likely to get anything out of it."
Vossen himself started his career as a scientist at TNO, specializing in electromagnetism. While at the institute, he became interested in coaching others in their professional trajectories. "It was a rather steep growth track, but I attended multiple trainings on coaching. In these courses, I learned so much about myself," illustrates Vossen. "That's where I discovered that I really enjoy working with younger people and trying to help them further their career. That's when I became a team manager and really found my passion for coaching and mentoring young talent. And ever since, that's where I've tried to put my energy."
Driver's seat
Another aspect to Vossen's philosophy on training is that there will never be a fixed course program in his group. Rather, training programs should be tailor-made to custom fit each member. "It really comes down to the needs of the person, of course, within their role on the team. I want to see them be enthusiastic about something and decide for themselves," says Vossen. "I shouldn't be in the driver's seat of their career. That has to come from them, with their own vision and their own interests. I think taking courses is part of that."
It seems like the approach is paying off. According to Vossen, over the last few years, product development at Hittech has been undergoing a transition. When the company was founded, the focus was on materials knowledge and construction principles, but now, it's centered on moving mechanisms and mechatronics, combined with optics, electronics and software. "As a company, we're offering fully integrated products. But with this transition, we've really had to intensify the systems engineering within the group," expresses Vossen. "This shift meant we needed to adapt and improve our capabilities and I had a number of our engineers requesting to enroll in training courses."
ROI
Recently, there was such an interest in an EMC training course that Hittech decided to commission a company edition of High Tech Institute's "EMC for mechatronic engineers". "When we select training courses, we don't want a standard, textbook type of course. It's important for us to find trainings that are taught by people with deep roots and experience in the high-tech domain," highlights Vossen. "That's really why we turned to High Tech Institute. Their trainings are designed for the industry by experts in the industry. It gives me a great level of comfort when arranging these kinds of trainings, as I know the content is always reliable."
A training, however, is meaningless if it doesn't lead to results, and of course a return on the investment. Though this can sometimes be difficult to quantify, for Vossen, the data is clear. One specific place he's noticed marked improvements is in the early stages of system design. Vossen: "I've seen that our engineers often come back from training with a fresh new perspective. I notice this particularly in the beginning stages of project planning. For example, in the process of setting up error budgets, the engineers are taking more details into account, specifically with an eye to possible EMC-related issues, very early on. In the past, however, they might have missed these potential issues altogether."
"Another benefit that I attribute to my employees participating in training programs is that it seems to help foster communication. Specifically, between those working in groups that consist of engineers from the various disciplines. They seem to understand each other's needs better and hence take each other more into account from the start. And while no project is perfect the first time around, the better your specs and conditions are at the beginning of a project, the better and smoother the project is sure to go."
This article is written by Collin Arocho, tech editor of Bits&Chips.
Recommendation by former participants
By the end of the training participants are asked to fill out an evaluation form. To the question: 'Would you recommend this training to others?' they responded with a 8.3 out of 10.
High Tech Institute organizes the 'EMC for mechatronic engineers' training once a year.