The Netherlands has long worked to put its stamp on mechatronics design and development. One way the country maintains its 'Dutch approach' is through trainings to transfer the knowledge. But how does that differ from other regions in the world? Vinicius Licks, professor of mechatronics at Brazil's Insper College, shares what he observed attending Dutch mechatronics training.
With a rich history of technical innovation embedded in its culture, the Netherlands has long been at the cutting edge of technology and engineering. This advanced position stems, in part, from the robust relationship between industry leaders and the technical universities. However, another instrument the Dutch use to maintain a healthy high-tech ecosystem is through the utilization of courses and trainings to both transfer and preserve the knowledge. Now, as the Netherlands' high-tech industry continues to hold its influence on global markets and supply chains, it should come as no surprise that the country's expertise and skills within the realm are also of great international appeal.
Just ask Vinicius Licks, professor and associate dean of the mechatronics program at Insper College in São Paulo, Brazil. In 2018, Licks made his first of three long treks from South America straight to the Netherlands. He didn't travel across the globe to enjoy a vacation; he came to get a feel for the Dutch high-tech environment, specifically through the mechatronics training cluster provided by High Tech Institute. "Training is one of the best ways to get in touch with new ideas and often to get new perspectives on old ideas," says Licks. "It's a great opportunity to communicate with your peers, exchange best practices and learn how to push the state-of-the-art in the field."
Eye opening
Of course, coming from a setting in higher education, Licks was more accustomed to attending conferences, rather than technical training programs. "I work for an academic institution, so usually we're the trainers, not the trainees," he jokes. "But this was truly an eye-opening experience for me." According to Licks, his first course, the "Motion control tuning" training, offered him a vastly different perspective on teaching and learning feedback control. "Most schools that I'm familiar with emphasize system identification in the sense that you must use it first to get a plant model to work with in your tuning efforts. The approach that I was exposed to during the training, however, was more experimentalist. The focus was less on the 'modeling from first principles' part and more on using frequency response estimates to tune the controller iteratively. While this approach to teaching feedback control was new to me, it was clear that for the control engineers in the Dutch mechatronics cluster, this was common sense."
''The courses really helped me sharpen my skills and understanding of the Dutch cultural approach to mechatronics.''
Enthusiastic after completing his first course, Licks made the long journey across the Atlantic twice more in 2019, specifically for two more courses in the Mechatronics Academy's training curriculum: "Advanced motion control" and "Experimental techniques in mechatronics." "I was so impressed with the courses that I attended, they really helped me sharpen my skills and understanding of the Dutch cultural approach to mechatronics, both practical and theoretical," highlights Licks. "The instructors were very knowledgeable and all of them professionally connected due to working or studying together in the past. That makes a big difference in terms of continuity and coherence of the content they're delivering – all with the same vocabulary and experimental references."
"The curricula are very meaningful and relevant. They're completely designed for someone who wants to have a complete view of the field of mechatronics design. The sequence of courses is built in such a way that some frameworks will be dealt with continuously, but from different perspectives and with increasing complexity. This is very rewarding because you feel that someone has put in time and effort to really think about what's included in every one of the courses," depicts Licks. "It's most likely, of course, that this is the work of many people and the outcome of several iterations of offering the same courses along the years, but also of caring to 'close the loop' with student feedback."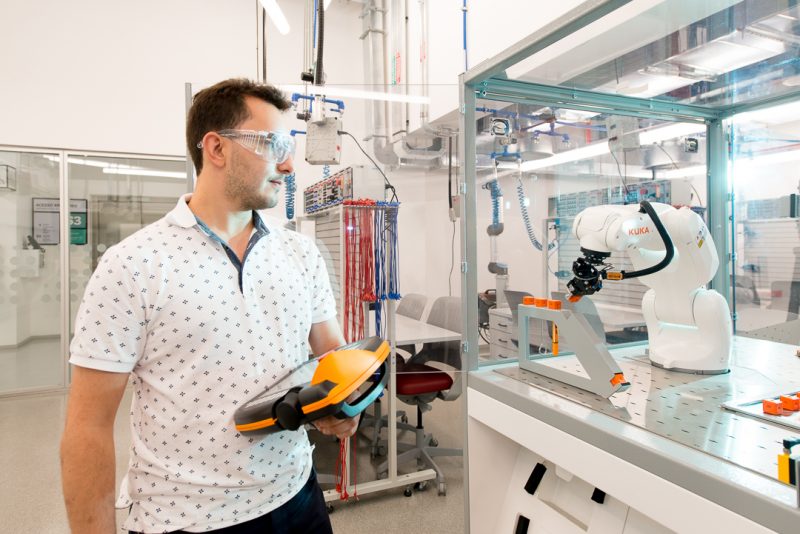 Automation and Control Lab at Insper College in São Paulo, Brazil. Photo credit: Insper.
How were these trainings different from others that you've attended elsewhere?
"These trainings, in particular, have given me a different perspective about how feedback control theory can be taught and learned, as well as the importance of creating common project frameworks before sharing these frameworks with all your teams and making sure that every new team member will be well-versed in those frameworks as soon as possible. Coming from outside the Dutch cluster, it's very interesting to realize how much shared knowledge there is in this industry in the Netherlands. People have been indoctrinated, in a positive way, into using the same conceptual tools and vocabularies, which makes the region much more productive. It's amazing to see all these people getting so excited to look at an experimental Nyquist plot," laughs Licks, "I've never seen such a fervent devotion to the frequency response function."
Pragmatic
Another specific difference that Licks sees in the Dutch courses, versus others, is the style and format in which the training is presented. He says, of the several previous trainings he's attended, they almost always fall in one of two categories: extremely theoretical or purely empirical. "Instructors coming from academia tend to be more prone to the theory, while typically, the industrial side is drawn the other way. What I experienced in the Netherlands was a methodology that mixed both worlds in such a way that theory was always informed by experimentation. You see that theory actually works in practice and you have a robust understanding of why this works because of the theoretical background. It's this approach to teaching and learning that reflects much of the pragmatism embedded in the 'Dutch way' of doing mechatronics design."
Do you have any plans to return for a fourth training course?
"As a matter of fact, yes. I'm looking forward to attending the 'Advanced feedforward and learning control' training. But I still have to convince the organizers to include additional sessions closer to the summer when the weather in the Netherlands is way more attractive!"
This article is written by Collin Arocho, tech editor of High-Tech Systems.
High Tech Institute organizes mechatronics trainings throughout the year.