Blunt new colleagues, group leaders with incomprehensible wishes – the Dutch high-tech culture sometimes causes frustration for starting internationals. Why is it not enough if they just do what's asked? Jaco Friedrich gives them a helping hand. With his training, "How to be successful in the Dutch high tech work culture," he became High Tech Institute's teacher of the year.
"Internationals tend to give a higher rating than Dutch people." With this remark, Jaco Friedrich put his proclamation as High Tech Institute's Teacher of the Year 2021 in perspective. The honor fell to him along with trainer Onno van Roosmalen.
Friedrich has been training leadership and communication skills for twenty years. In doing so, he focuses primarily on technicians and especially professionals in high tech. Being an engineer himself, he became interested in team dynamics and personal interaction because he saw that this had a major impact on the success of technical development projects. He decided to study psychology and make training engineers his profession.
In recent years, Friedrich developed a training specifically for professionals who are relatively new to the Dutch high-tech sector. This training,"How to be successful in the Dutch high tech work culture," is now very successfully running several times a year. For the September 2021 edition, he trained a group of twelve participants and got a personal score of 9.8.
All participants said that they'd highly recommend the course to others (they responded with a tremendous total average of 9.7 points out of a possible 10). They commented that Friedrich's course was "very practical and useful", a "good and energizing experience", "positive and certainly useful" and "safe and engaging." "A great teacher," one of them remarked.
Inspiring
Apart from his modest reply, Friedrich has another explanation for his success. The training actually helps international knowledge workers. "One of the participants commented afterward that he had learned in one day what he had painfully experienced in recent years about what you do and don't do in the Dutch high-tech culture."
"Misinterpreting what's happening around you can cause a lot of frustration."
Through the training, participants better understand what the expectations are and how to meet them, Friedrich explains. "Misinterpreting what's happening around you can cause a lot of frustration. Compare it to a complicated device that doesn't come with an instruction manual. Before you know it, it takes you an unnecessary amount of time to get the thing to work. If you take the wrong approach, it will break down. The culture training also is a manual."
The many possible ways to get a smooth interaction with colleagues Friedrich finds especially inspiring about his culture training. "The different backgrounds of the participants inspire me. All of them come up with their own way of handling something once they get the hang of how it works in the Netherlands."
What helps is that most internationals are highly motivated. "They've left heart and home and are stepping into a whole new adventure. I respect that."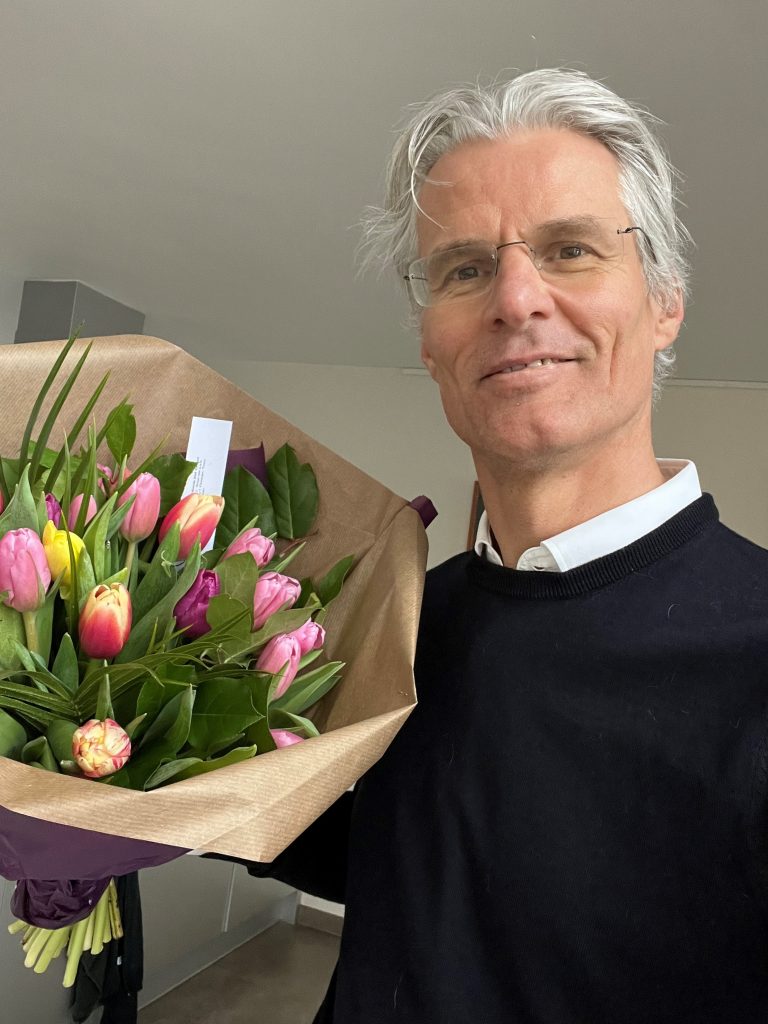 Trainer Jaco Friedrich
Johan Cruijff
The culture training lasts only one day, but in that short time, participants take a big step. "It's not helpful for employers to let new people swim. Talented people themselves want to be productive as soon as possible. They don't want to waste time. By following the training course after, say, six months of work experience in the Netherlands, the penny drops and that helps them to 'onboard' faster and be successful," says Friedrich.
The participants, who come from all over the world, say that the more intricate communication points do not always come through quickly. "Generally, they're frustrated that despite doing the best they can, they still receive signals that they need to do things differently." For example, they're advised to take more ownership. It also happens that they perceive people as aggressive, even though they're aware of Dutch directness.
"It's all about what you have to do what's not necessarily asked from you."
Most internationals have to get used to Dutch bosses who expect team members to have the guts to confront them. They expect to be challenged and like a critical attitude from all colleagues. Friedrich: "It's all about what you have to do what's not necessarily asked from you. These things are essentially foreign to internationals and require explanation. How do you give feedback to someone who's direct but not aggressive? What exactly is meant by 'ownership' in the Dutch context. How do you approach that? All these issues are discussed during the training. The participants recognize each and every one of them and they want concrete handles. We give them those."
Friedrich knows that trainees benefit from his course. Afterward, he often receives emails from participants who report that what they've learned is useful at work. "They definitely do something with it because frustration can be quite high. It's like the Dutch soccer hero Johan Cruijff said: 'You'll only see it when you understand it.' The moment the participants gain the insight and, moreover, experience it in exercises, for example on how to influence decision-making, they don't forget it anymore. This gives them self-confidence and the motivation to apply what they've learned."
This article is written by René Raaijmakers, tech editor of Bits&Chips.
Recommendation by former participants
By the end of the training participants are asked to fill out an evaluation form. To the question: 'Would you recommend this training to others?' they responded with a 9.1 out of 10.
Jaco Friedrich provides the training How to be successful in the Dutch high tech work culture several times a year.