Systems & Software Academy
Intro
Working with Agile methods and particularly with Scrum has become mainstream in the IT-world. This EXIN Agile Scrum Foundation training gives participants thorough insight in the Agile principles and how to work with them within Scrum. They will acquire the necessary knowledge and skills regarding all the different roles, the stages of the Scrum process and the products. Participants will be fully prepared for the EXIN Agile Scrum Foundation exam (ASF).
Objective
The training aims to:
Give participants thorough knowledge and insight in Agile and Scrum;
Prepare participants for the EXIN Agile Scrum Foundation exam (ASF).
Intended for
Every person who works in or will be working in an Agile/Scrum environment.
Partner: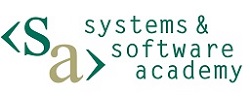 Program
The training focuses on:
Introduction of Agile and Scrum;
Putting Scrum into practice with a case example;
Scrum of Scrums;
Scrumban;
Information about the exam.
Methods
Scrum is a method you can't learn by only studying the theory. Therefore, participants will be running through the whole process by working with an actual case. In that way, they will learn to hold a sprint planning meeting, playing planning poker, refine user stories, apply daily scrum, make a burndown chart, organise a demo, and hold a retrospective. Participants learn the difference between Scrum and Scrumban, and how a Scrum session is organized. Participants work on presentations for one day. If needed, the trainer will explain how to put Scrum into practice.
The course has a maximum of twelve participants and uses the EXIN Agile Scrum Foundation Workbook.
Certification
Participants will receive a High Tech Institute certificate for attending this course.
* Prices are subject to change. Price correction will be applied at the end of the year.