Systems & Software Academy
Intro
Scrum is about much more than just following Agile principles. How do you handle resistance, how do you give proper feedback and how do you get your team to really manage itself? Our Scrum Master training deepens your theoretical knowledge. It's all about taking Agile to the work floor.

The central theme of this course is the practical adaptation of Agile methods. Every Scrum Master is the pivot in the scrum process; helping the (development) team at implementing the Agile work methods, and making sure the work climate enhances the team's ability to improve its results constantly. It's essential that a Scrum Master has ample knowledge and experience in order to fulfil his role.
Objective
The training aims to:
Provide insight in tasks and influence of the Scrum Master;
Provide insight in your own behaviour and acting as a Scrum Master;
Teach you how to become a servient leader;
Teach you how to be a facilitating coach.
Intended for
Every person who is Scrum Master or aims to be a Scrum Master in the future. Basic knowledge of Agile is required.
Partner: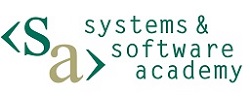 Course schedule
In-company only
Duration
2 consecutive days
Price
€ 1,220 excl. VAT *
Keep me posted
Program
The training focuses on:
Servient leadership and coaching;
Tasks of the Scrum Master;
Agile (scaling) techniques.
Methods
The course mixes practical exercises with theoretical background. Throughout the interactive training a real-life case will serve as a practical example and background to many exercises. All participants will get assignments, so they can practice their new knowledge and skills in a safe environment. They will solve several cases in small work groups. The course has a maximum of twelve participants.
Certification
Participants will receive a High Tech Institute certificate for attending this course.
* Prices are subject to change. Price correction will be applied at the end of the year.